For many of us, instant noodle has become a guilty pleasure. However, it's actually very easy to cook your own noodles. This way, you don't have to worry about the high MSG or the impacts on your health! Here are some easy, healthy noodle recipes that you could try at home:
Teriyaki Chicken Noodle
Recipe by Chungah Rhee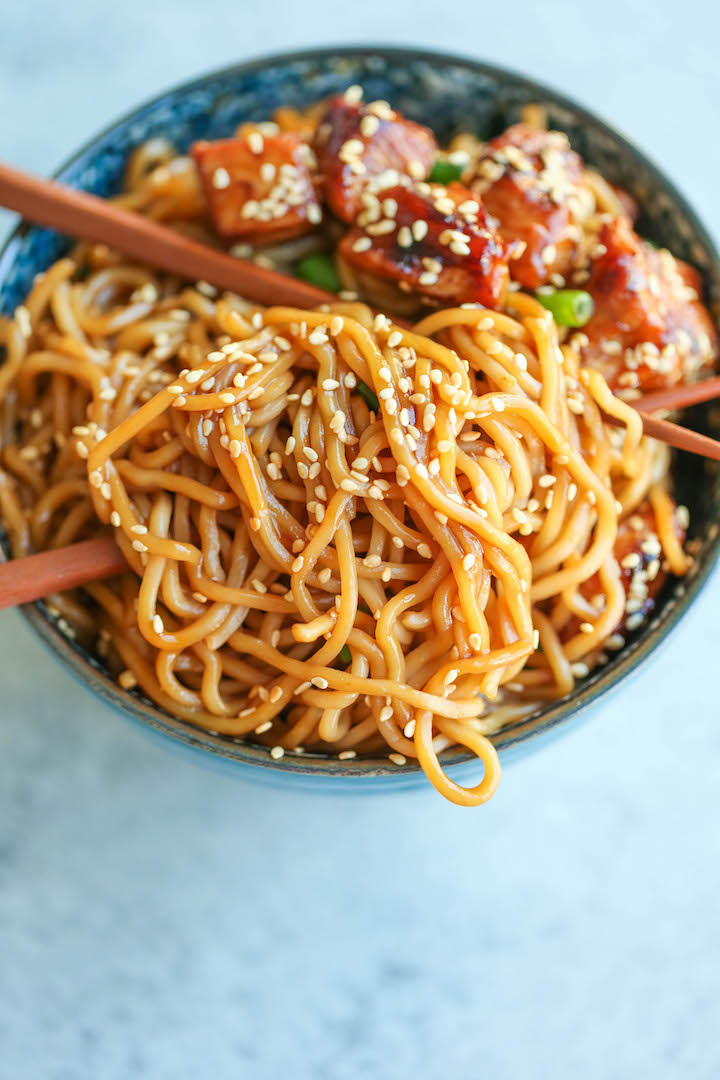 Ingredients:
2 packages refrigerated Yaki-Soba
1 tablespoon cornstarch
1/3 cup reduced sodium soy sauce
1/4 cup brown sugar, packed
3 cloves garlic, minced
1 tablespoon ginger, grated
2 tablespoons honey
1 pound boneless, skinless chicken thighs, cut into 1-inch chunks
1 tablespoon olive oil
1 teaspoon sesame seeds
1 green onion, thinly sliced
How to Prepare:
In a large pot of boiling water, cook Yaki-Soba until loosened, about 1-2 minutes; drain well.
In a small bowl, whisk together cornstarch and 1/4 cup water; set aside.
In a small saucepan over medium heat, add soy sauce, brown sugar, garlic, ginger, honey and 1 cup water; bring to a simmer. Stir in cornstarch mixture until thickened enough to coat the back of a spoon, about 2 minutes; let cool to room temperature. Reserve 1/4 cup and set aside.
In a gallon size sealable bag or large bowl, combine soy sauce mixture and chicken; marinate for at least 30 minutes to overnight, turning the bag occasionally. Drain the chicken from the marinade.
Heat olive oil in a large skillet over medium heat. Add chicken and cook until golden brown and cooked through, about 3-4 minutes; set aside.
Stir in Yaki-Soba and 1/4 cup reserved soy sauce mixture until well combined, about 2 minutes.
Serve immediately, garnished with sesame seeds and green onion, if desired.
Pad Kee Mao
Recipe by: Pickled Plum
Ingredients
1 tablespoon canola oil
2 garlic cloves, finely chopped
1-2 Thai chilis (omit if you prefer not-spicy)
10-12 shrimp, uncooked and removed from their shells (thawed if previously frozen)
2 tablespoons fish sauce
2 tablespoons sweet dark soy sauce
2 Kaffir lime leaves, finely chopped OR substitute with 1½ teaspoon finely chopped lime zest
1 large tomato, chopped
230 gram dry rice stick noodles
10-12 fresh basil leaves, hand torn
How to Prepare:
Prepare rice noodles by following the instructions on the package. Set aside.
In a wok or frying pan over medium-high heat, heat the oil and fry garlic for a minute, or until golden.
Add shrimp and toss for approximately 2-3 minutes, until almost cooked – then add egg and stir for a couple seconds until egg starts to set.
Add chili, lime leaves, tomatoes fish sauce and dark soy sauce and stir for a minute or so until the tomato is cooked and sauce is bubbling.
Add the rice noodles and toss until noodles are hot, evenly coated and ingredients are mixed well.
Turn off the heat and add basil. Toss and serve immediately.
Ramen with Bacon and Soft-Boiled Eggs
Recipe by: Yes to Yolks
Ingredients:
4 slices bacon, chopped
1 (1-inch) piece of fresh ginger, peeled and sliced
3 garlic cloves, sliced
1 tablespoon minced lemongrass
1 tablespoon white miso paste
Red pepper flakes, to taste
4 cups low-sodium chicken broth
2 tablespoons low-sodium soy sauce (or to taste – the miso already adds quite a bit of salt)
½ tablespoon balsamic vinegar
½ tablespoon rice wine vinegar
2 teaspoons toasted sesame oil
1 package dried ramen noodles (discard the included seasoning packet)
Toppings:
2 cups stemmed and chopped baby spinach leaves
1 shallot, very thinly sliced
2 soft-boiled eggs, peeled and halved
Chopped scallions
Hot sauce (optional)
How to Prepare:
Place a pot over medium-high heat and add the bacon. Render until crispy. Remove half of the bacon with slotted spoon and set aside (this will be used as a garnish).
To the remaining bacon and drippings, add the ginger, garlic, and lemongrass and sauté for 1 minute. Add the miso paste and red pepper flakes and stir until incorporated. Add the stock and bring to a simmer. Simmer for 30 minutes and then strain out and discard the aromatics (bacon, garlic, ginger, and lemongrass). Stir in the soy sauce, vinegar, and toasted sesame oil and keep warm until ready to serve.
Make the soft-boiled eggs at this point but do not drain the water when finished. Instead, return the water to a simmer and cook the ramen noodles for 2-3 minutes or until tender. Drain, rinse and set aside.
To serve, divide the baby spinach, shallot, and the cooked noodles between two bowls. Ladle the hot broth over the noodles and top each bowl with the crisped bacon, soft-boiled eggs, scallions, and hot sauce. Serve.
Homemade Chicken Noodle Soup
Recipe by: Averie / averiecooks.com
Ingredients:
2 tablespoons olive oil
1 cup carrots, peeled and sliced thin (about 1 1/2 large carrots)
1 cup celery, sliced thin (about 2 stalks)
1 cup sweet Vidalia or yellow onion, peeled and diced small (about 1 medium onion)
2 garlic cloves, minced
8 kilograms (8 cups) low-sodium chicken broth
2 bay leaves
1 teaspoon fresh thyme (or 1/2 teaspoon dried thyme)
1/2 teaspoon dried oregano
1 teaspoon pepper, or to taste
12 ounces wide egg noodles (or your preferred noodles or pasta)
2 cups shredded cooked chicken (using store bought rotisserie chicken, or roast or cook your own chicken in a skillet)
3 to 4 tablespoons fresh flat-leaf parsley leaves, finely chopped
1 tablespoon lemon juice, optional
salt, to taste
How to Prepare:
To a large stockpot, add the oil and heat over medium-high heat to warm.
Add the carrots, celery, onion, and sauté for about 7 minutes, or until vegetables begin to soften. Stir intermittently.
Add the garlic and sauté for another 1 to 2 minutes.
Add the chicken broth, bay leaves, thyme, oregano, pepper, and bring to a boil. Allow mixture to boil gently for about 5 minutes or until vegetables are fork-tender.
Add the egg noodles and boil the mixture for about 10 minutes, or until noodles are soft and cooked through.
Add the chicken, parsley, optional lemon juice, and boil 1 to 2 minutes, or until chicken is warmed through. Taste soup and add salt to taste. I added about 1 tablespoon but this will vary based on how salty the brand of chicken broth used is, how salty the rotisserie chicken is, and personal preference. Make any necessary seasoning adjustments (i.e. more salt, pepper, herbs, etc.), remove the bay leaves, and serve immediately. Soup will keep airtight in the fridge for 5 to 7 days or in the freezer for up to 6 months.
These are some noodle recipes for all your carbohydrate craving! What will you cook this evening?