A house gathering wouldn't be complete without tasty, refreshing drinks, especially in this summer weather. And when it comes to drinks, nothing beats good mocktails – sweet, icy beverages that everyone can enjoy. If you need some inspirations, here are 10 non-alcoholic mocktail recipes that you can try out at home.
Thai Basil Grapefruit and Chia Tonic by Seamus Mullen / Food & Wine
Ingredients:
3/4 cup fresh grapefruit juice with pulp
2 tablespoons pure maple syrup
2 tablespoons chia seeds
1 Thai basil sprig or 4-inch rosemary sprig
Caramel Apple Pie Mocktail by Merry About Town
Ingredients:
6 cups apple cider
1/2 cup caramel syrup
3 cups sparkling water
2 teaspoons cinnamon
2 apples
Rosemary sprigs (around 6)
Golden brown sugar for rimming
Coconut Lavender Lemonade by Eat Yourself Skinny
Ingredients:
2 cups water
½ cup sugar
¼ cup agave nectar (or honey)
3 tablespoons dried lavender
2 cups freshly squeezed lemon juice
4 cups water
1 lemon, sliced (for garnish)
Nice Pear by The Third Man
Ingredients:
2 ounces pear juice
1-ounce lemon juice
.75-ounce rosemary-infused simple syrup
Drink Pink Mocktail by Jamie / Love Bakes Good Cakes
Ingredients:
1 can frozen pink lemonade concentrate, thawed
4 cups white cranberry juice cocktail
4 cups lemon-lime soft drink, chilled
Raspberries and/or pomegranate arils, for garnish (optional)
Fresh citrus wedges/slices, for garnish (optional)
Blueberry Mojito by The Merry Thought
Ingredients:
1 cup fresh blueberries
10 fresh mint leaves
2 teaspoons sugar
juice of 2 limes
club soda
crushed ice
Pineapple Holiday Mocktail by Slap Dash Mom
Ingredients:
5-ounce triple sec
1-ounce grenadine
2 ounces coconut lime sparkling soda
3 ounces pineapple coconut juice
sprig of mint and a Maraschino cherry for garnish
ice
Blue Shoe by Mixthatdrink
Ingredients:
3 ounces blue Hawaiian Punch (or similar)
2 ounces white cranberry juice
7-Up
Mimosa by Watch What U Eat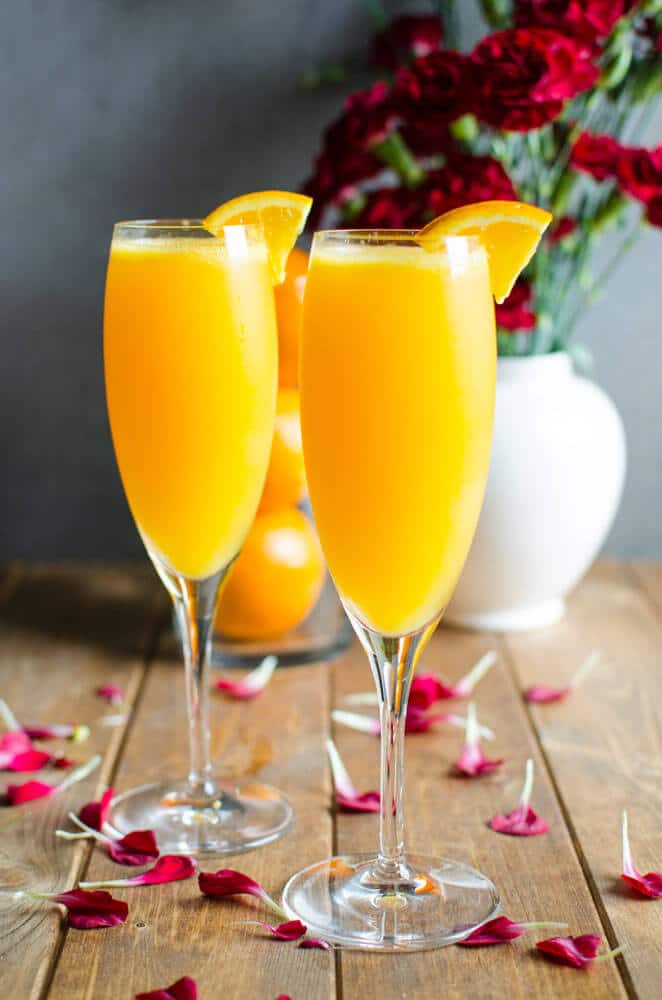 Ingredients:
1/2 cup fresh orange juice (chilled)
1/2 cup sparkling apple cider (chilled)
Apple Pie Punch by Frugal Mom Eh
Ingredients:
4 cups apple cider
1 cup pear nectar
3 cups ginger ale
1 apple (diced)
What are you waiting for? Get your mixers out and try some!