Do you
love
pies?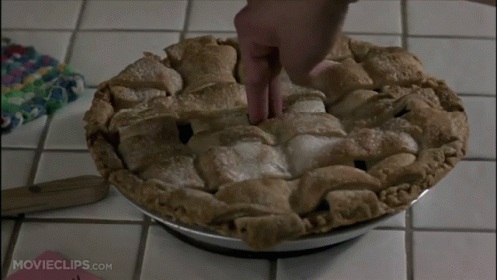 Oh no, not like that. Do you enjoy more than just eating a pie reheated from a frozen food box? Well put away your savoury meat pies and ketchup packets, because I've got a delicious sweet pie recipe for you to try out.

Ingredients

6 cups of fresh blueberries (washed and dried)
2 (prepared) 9-inch pie crusts
3/4 – 1 cup sugar
3 – 4 tablespoons cornstarch
1/2 lemon zest
2 tablespoons fresh-squeezed lemon juice
1 large egg yolk whisked with 1 tablespoon warm water (for glaze)
Method:
Roll out one of the pie crusts to a diameter of 12 to 13 inches and transfer it to a 9-inch pie. Tuck it into the corners of the pan. Place the pie pan into the fridge and chill the crust for 30 minutes.
Preheat the oven to 220°c while the crust is chilling.
Mix blueberries, 3/4 cup of sugar, 3 tablespoons cornstarch, lemon zest and lemon juice together in a separate bowl. Stir until sugar dissolves into a goo and let the berries soften on the counter for 15-30 minutes.
Remove pie crust from the fridge and pour berries inside. Roll out the second pie crust to a diameter of 11 to 12 inches and gently lay it over the top of your pie. Trim the edges to make them even, then tuck the edges under themselves and crimp. Slice a few vent holes (in the shape of an 'x')  in the top pie crust and brush egg yolk on the top.
Place the pie onto a baking sheet and bake in the oven for 15 minutes. Turn the oven temperature down to 180°C and continue baking for another 30-40 minutes, until the berry juices are bubbling and the top crust is golden brown.
Remove the pie from the oven and let it cool for at least 4 hours before serving.
7. And voilá! Enjoy your crusty blueberry creation with 8-10 of your friends (or enjoy all of it by yourself).