No matter how full we are, there's always a place for dessert somewhere in our stomach. However, given the plethora of dessert spots in Sydney, how can we know which ones are worth a try? Worry not, for I have crafted a list of the top Sydney desserts you must try:
1. Koi Dessert Bar http://www.koidessertbar.com.au/
If you're a fan of Masterchef contestant Reynold Poernomo, you will be able to taste his desserts in person here. The place serves ready-made desserts as well as fancy degustation menu.
2. Bourke Street Bakery http://bourkestreetbakery.com.au
With stores in many different locations across Sydney, the place serves a variety of cakes and pastries. If you're after something savory, Bourke Street Bakery also offers a wide range of pies, quiche, and sandwiches.
3. Cow and the Moon https://www.facebook.com/Cow-and-the-Moon-GelatoCoffeeDessert-Bar-145041955555930/
Titled world's best gelato in 2014, Cow and the Moon is not a place to be missed. The long queue in the Enmore store might dissuade you – but believe me, the Mandorla Affogato ice cream makes all the wait worthwhile.
4. Kürtosh http://kurtosh.com.au

In this place, visitors can sit down and enjoy a coffee while watching the chef create the famous Hungarian 'chimney cake' from scratch. Don't forget to try out the slab cakes and freshly baked pastries as well!
5. Adriano Zumbo Pâtissier http://zumbo.com.au
If you've been watering your mouth over the chef's desserts on TV, now is a good chance to try them out in person! The place is a galore of sweet desserts, serving cakes, tarts, pastries, chocolate and the infamous Zumbarons macarons.
6. Black Star Pastry http://www.blackstarpastry.com.au/
Black Star Pastry is famous for its sweet yet healthy cakes. Check out their Strawberry Watermelon Cake and Pistachio Lemon Zen Cake, and ask for their vegan and gluten free range too.
7. Ms. G's  http://merivale.com.au/msgs
Famous for its Asian Fusion cuisine, Ms. G's also offers some great desserts. If you're after something more healthy, order the fruit-infused range such as the 'Tropical Passion' (passionfruit custard, tropical fruits, chocolate coconut oil, pandan meringue, coconut sorbet) and 'Omar's Mess' (green tea meringue, whipped yuzu curd, brown butter, jackfruit sorbet). But if you really just want a comfort food, don't miss out the 'Stoner's Delight part 3', which is a mix of doughnut ice cream, peanut dulce de leche, peanut & pretzel brittle, crispy bacon, mars bar brownie, raspberry curd, potato chips and deep fried Nutella!
8. Bay Vista http://www.bayvista.com.au
The place offers almost all kinds of desserts you could imagine: crepes, pancakes, waffles, cakes, chocolate fondue set, ice cream, milkshakes… you're in for a treat.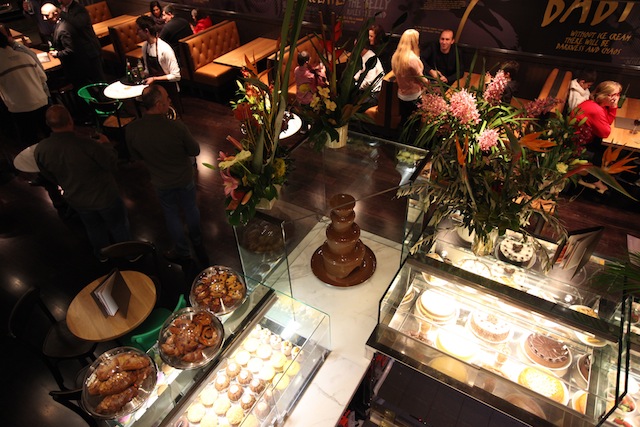 These are my top eight Sydney dessert spots. Have you decided where to go for your post-dinner fix?